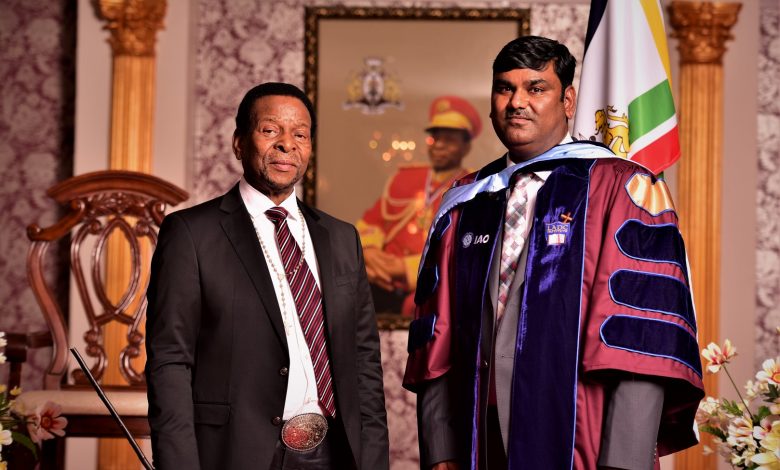 After more than two decades of bringing hope and restoring dignity to those in need, philanthropist and businessman Ishwar Ramlutchman was honoured for his exceptional community work on Sunday.

In a special ceremony held at the uMfolozi Casino Hotel Resort in Empangeni, Ramlutchman received honorary degrees from Los Angelos, Ladc and IOA and presented by the National Congregational School of Theology.

Development Church in the United States of America, and Ishwar's work was recognised in SA and in the USA.During the ceremony he was recognised with an Honorary doctorate, Honorary Professorship and Honorary Master' in Religious studies.Ishwar was born in Stanger (KwaDukuza) 43 years ago and faced many challenges living in a poor community.
Oppressed by the social and economic ills that pervaded many such communities, Ishwar was fortunate to have the love of his mother, who in spite of her own pain did her best for her family.'The loving and gentle nature was definitely passed on from mother to son,' he said.Even though the death of his father while in matric devastated him, Ishwar refused to compromise or to become an unemployment statistic.
He remained positive and rose above everything to be in control of his own destiny.His willing attitude to learn earned him a variety of technical skills, including metal work and welding. Years later, his determination, accompanied by diligence and a natural aptitude for business, saw him becoming an innovator. He soon established his lucrative business enterprise and over time his work earned him recognition as one of KZN's top businessmen.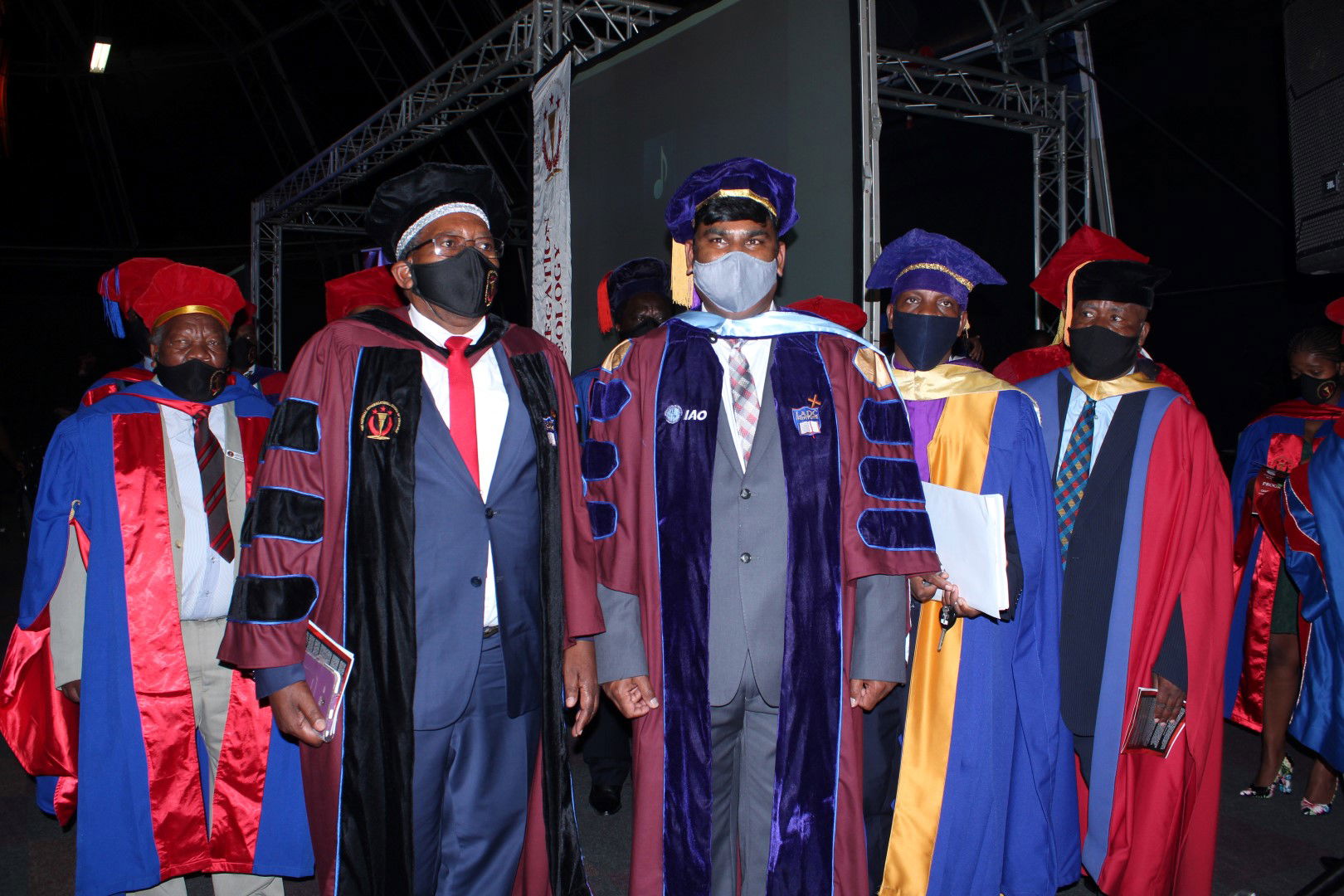 Prof Mkhize, Prof Mr Ngalo, Prof Ishwar Ramlutchman Mabheka Zulu, Prof SC Shabalala and Dr Dondo.
Community work
Even though he felt the need to survive in a demanding world, Ishwar didn't neglect the spiritual aspect of his life. His spiritual masters were instrumental in teaching him values, principles, ethics and humanity.Striving to become a good human being, he made caring for others his main priority. He continues to sponsor bursaries to underprivileged children, emphasising the importance of education.

Over the years he has contributed tremendously to the lndian diaspora globally.His commitment to Gopio International has seen many countries benefit from his philanthropic and humanitarian work.

He adopted a social responsibility to serve the poorest of the poor. Among others,he drives extensive food and clothing distribution programmes, as well as assisting disabled people with wheelchairs. In many rural Zululand communities he has formed various skills development projects, such as donating sewing machines,computers and farming implements–promoting independence and survival to many disadvantage people.His also builds low cost homes for destitute families.

His contribution towards promoting and preserving wildlife and nature conservation is highly admirable,and as a result he became an ambassador for Ezemvelo KZN Wildlife.For championing social cohesion in South Africa and for being respectful of all religions and faiths, he became part of the Royal Household Trust and drafted into the Ezinyosi Zulu regiment.He was given the name Mabheka Zulu by His Majesty,King Goodwill Zwelithini.
His Majesty King Goodwill extends his personal congratulations
Mabheka has played a significant role in terms of strengthening business and cultural relations between India and South Africa.Indeed, over the years Mabheka has become an additional member of our family, whom I always refer to as indodana yethu,our son.His commitment and promotion of social cohesion,nature conservation and respect for everyone's cultural heritage and religion has earned him our respect.

It is important to recognise good deeds while those who do them are still alive. Today we are filled with joy and pride to see Mabheka continue to serve the people of South Africa. He has set an example for all young people in our country and I wish he may continue with his exemplary leadership throughout his life's journey.
From Prince Mangosuthu
Ishwar and I became close because of the work of Swami Sahajananda, and our friendship continued based on the work of Ishwar himself.I consider him and his family part of my own family.Indeed, he has done more for struggling black communities than many black philanthropists themselves. He is a hero of KwaZulu Natal, and for that, we honour him.