FACES OF DESCENDANTS OF 1860 INDIANS: Ishwar Ramlutchman hosted a commemoration banquet marking 161 years since the arrival of Indian indentured sugarcane plantation labourers on Tuesday, graced here by Roshini George of Phoenix and classical dancer and school educator, Miresha George, who enthralled guests with her Bharatha-Natyam dancing skills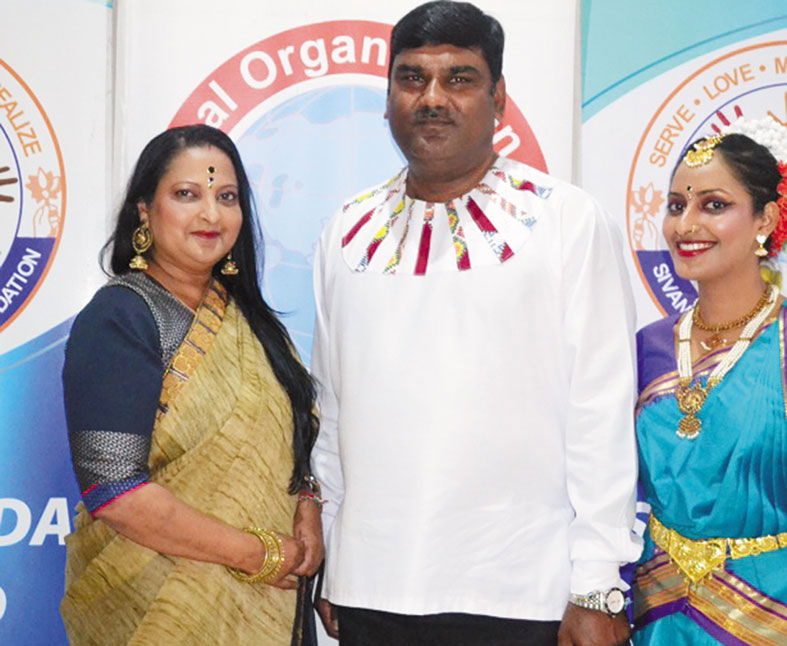 Prominent spiritual-cultural leader, businessman and member of the Royal Zulu Household, Ishwar Ramlutchman, has delivered a scathing attack on Durban Indians, blaming the non-erection of a monument in memory of the 1860 Indian indentured labourers on "disunity" and petty politics.
Ramlutchman was speaking at a function marking 161 years since the arrival of the first batch of 342 semi-slaves from India on 16 November 1860 in Durban on Tuesday night. The function was hosted by the World Sivananda Foundation and the Durban chapter of the Global Organisation of People of Indian Origin (Gopio International). Ramlutchman, also known as Prince Mabheka Zulu as the adopted son of the late King Goodwill Zwelithini ka-Bhekuzulu, said the deep "disunity" and narrow politics among representatives of the six sub-groups of the Indian community could be blamed for the delay in the provincial government and the eThekwini Municipality failing to build a memorial stone and statue."We have survived against all odds, simply because of the thousands of indentured men, women and children who turned the tide of KwaZulu-Natal's colonial economy when they toiled from dawn to dusk under horrendous human conditions and transformed the green sugarcane plantations into gold for the British settlers and farming barons."He said he had funded and built Sivananda Pillars at the monument park in Belvedere, Tongaat, a township named after the second ship, and erected statues at the Shree Mariammen Temple in Mount Edgecombe, Durban, where the indentured labourers built a wood-and-iron Hindu temple 150 years ago: "This is a sacred place of worship where this marginalised community were galvanised to seek spiritual and religious succour to escape the daily persecution and harsh treatments under the searing African sun," he said."Yet with all our resources and skills, we cannot complete a project that pays homage to resilient forebears who survived everything thrown at them by the colonial and apartheid rulers to succeed as a powerful group of people. I was appointed by the then premier, Dr Zweli Mkhize, to serve on this multi-racial committee, and was removed, and ten years later and with a budget of R10 million we have no memorial statue to show for on Durban's shoreline. Instead, each year a small coterie of Indians join government and city officials to hold inter-faith prayers and vigils at Addington Beach where the stoical Indians first landed," he told guests at the Jaipur Restaurant."The statue can be built overnight, if only Indian leaders from all faiths and linguistic groups can come together selflessly and put their egos on hold and get on with a project that is 160 years behind time," he said, pointing to his chief guests, which included Edison Power chairman, Vivian Reddy.He was also scathing about Indian attitudes towards his allegiance and alliance with the AmaZulu Royal Household: "I am even criticised for hosting the annual Festival of Lights, Diwali, celebration between Zulu-speaking people, Indians and other race groups at the royal palaces in Nongoma each year.All this negativity and reluctance to co-exist and work with the indigenous people only comes from sections of Durban Indians. Indians live all over KwaZulu-Natal and South Africa and not just in Durban only.These events are stymied because of traditional Durban-centric sentiments of the city Indians who call rural-born people like me as the boy from the North," an emotionally-charged Ramlutchman said. He called on Finance MEC, Ravi Pillay, to play a greater ministerial role with the ruling ANC to contribute to get the controversial statue project completed and said government should account with an audited statement for the R10 million spent to commission the project.Several other speakers expressed concern about the current status and the future of Indians, with the likes of Vivian Reddy and ANC MP, Brandon Pillay, urging the community to end its social and political apathy and begin engaging other South Africans – including the ruling ANC in government and get involved in the economic, social and political dynamics rather than marginalising themselves as the victims of a post-apartheid dispensation."The ANC government will not service Indian-zoned areas as long as Indians continue voting for the Democratic Alliance," the former Chatsworth activist said. Minority Front MP, Shameem Thakur-Rajbansi, called on Indians to work towards getting involved with the government's National Development Plan and the United Nations Sustainable Programme (aimed at curbing climate change) – both deadlined by 2030 – and to attract young adults and youth in the journey of "survival" ahead.